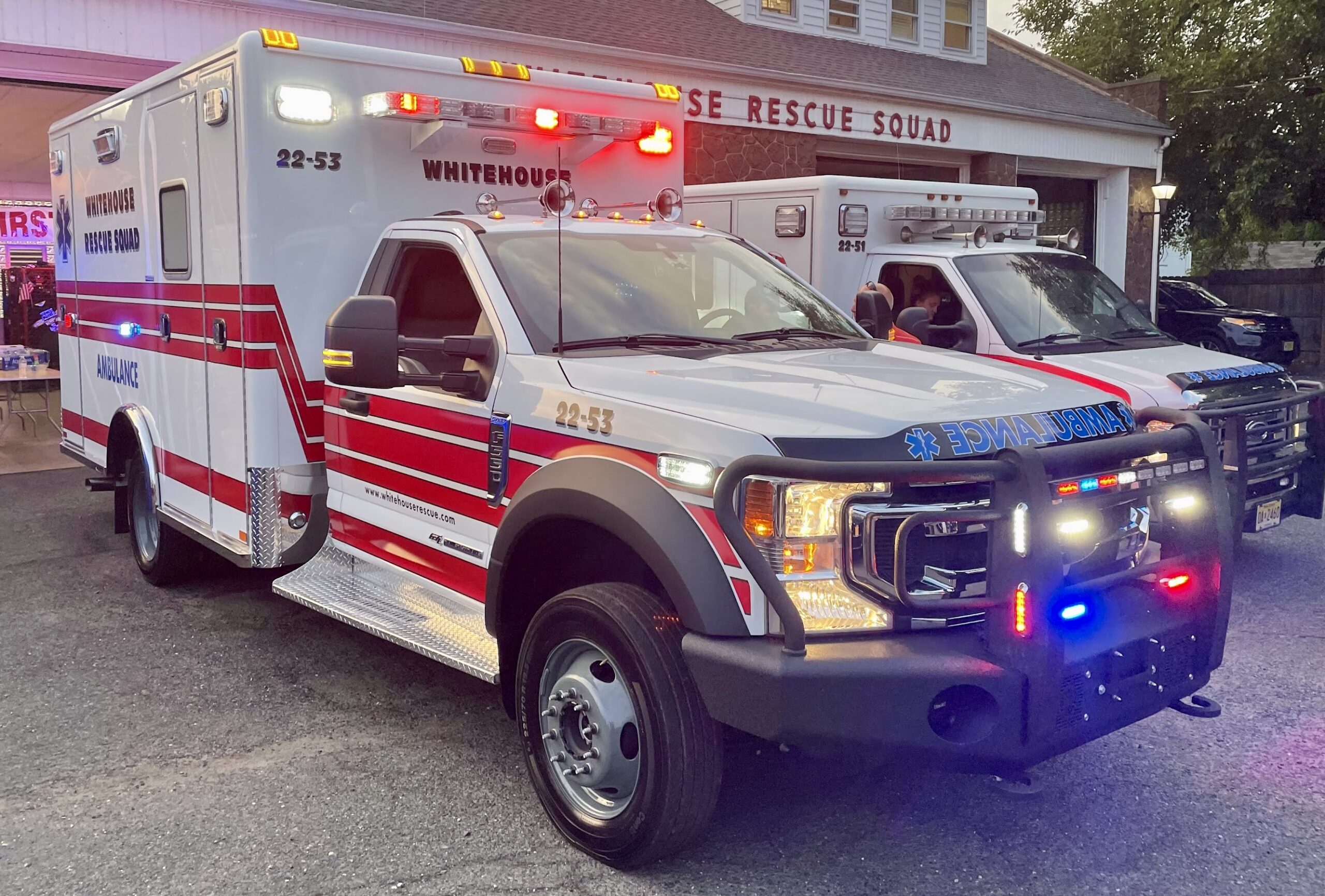 What we do:
Whitehouse Rescue Squad is a non-profit, volunteer/career agency that provides Emergency Medical & Rescue Services to  all of Readington Township as well as parts of Tewksbury Township. We have Emergency Medical Technicians (EMTs) on call 24 hours a day, 7 days per week to respond to over 2200 calls each year.
Volunteering since 1950:
Premium services are what make WHRS different from other volunteer squads and private ambulance services. These services include:
• 24-7 Emergency Medical Services (EMS)
• Rescue Division
• Mass Casualty Response
• Rehabilitation Unit
• EMS Bike Team
• Member of Hunterdon County Technical Rescue Task Force
EMTs respond to 9-1-1 calls for medical emergencies. Furthermore, the Rescue and EMS Divisions respond together to motor vehicle collisions, high angle rescues, trench & confined space entrapments, swift water emergencies, and ice rescues. Rescue associates focus on the extrication of patients while EMTs attend to medical issues and patient transportation to the hospital.
Members of WHRS also respond to large-scale disasters, for example: Our water rescue crews saved lives in the flooded city of Bound Brook during Hurricane Floyd in 1999 and the Nor'easter of 2007. More than ten squad members manned the Rehabilitation Unit to support over 300 law enforcement officers in March '07 as they searched for a run-away bank robber. And, the Mass Casualty Trailer was deployed at the World Trade Center Incident of 9-11-01.
Members of WHRS also work side-by -side with neighboring squads to train for and respond to emergency incidents in others areas of NJ as well as PA and NY.
If you have any questions on whether or not you are covered by the Whitehouse Rescue Squad, please feel free to call our squad headquarters, 908-534-2509.
 Please click here to see an approximate coverage map.
Our Coverage Territory:
Whitehouse Rescue responds to emergencies in all of Readington Township, the eastern portion of Clinton Township, and the southern part of Tewksbury Township. We also have a daytime partnership into Tewksbury Township to respond to calls up to northern Tewksbury.
We work with the following mutual aid Rescue Squads that neighbor our coverage area:
 We work with the following Fire Departments in our coverage area:
The Whitehouse Station Fire Company #1 - Station 22
The East Whitehouse Fire Department - Station 31
The Readington Volunteer Fire Department - Station 32
The Three Bridges Fire Department - Station 33
The Annandale Hose Company #1 - Station 46
The Lebanon Borough Fire Company - Station 18
The Oldwick Fire Department - Station 24
We also work with additional Rescue Squads and Fire Departments on large scale incidents.
Advanced Life Support (ALS) Paramedics that service our coverage area are:
EMS-1, EMS-2, EMS-3 and EMS-4 from Hunterdon Medical Center
Medic 8A1 from RWJ/Somerset Medical Center